Setting up my WordPress site was really fun and pretty simple. I've always wanted to create a WordPress site and so I was surprised at how easy the process was! I'm glad that we I'm getting the opportunity to learn this in class. I am hoping to use this site as an experiment in WordPress. I want to learn as much from it as possible. I think learning is one of the biggest upsides of creating your own site from scratch.
My page is super simple at the moment aesthetically, which wasn't exactly my intention, but I'm looking forward to building on it a lot as the term goes on.
Although I was able to install the Akismet plugin, I couldn't change the theme on my site — I downloaded a very cool one that I liked (it makes your pages look like a book!) but it just took ages to load and I'm not really sure what was up with that. Hopefully I can spend more time figuring that out though!
Here are some more pictures of the site. In my first blog post, I tried to include a few lines of poetry. The formatting for this looked a little weird in the preview though, so I'm also hoping to change that once I can figure out a more professional way to display it.
Here's my first post! And the poem formatting looks alright here.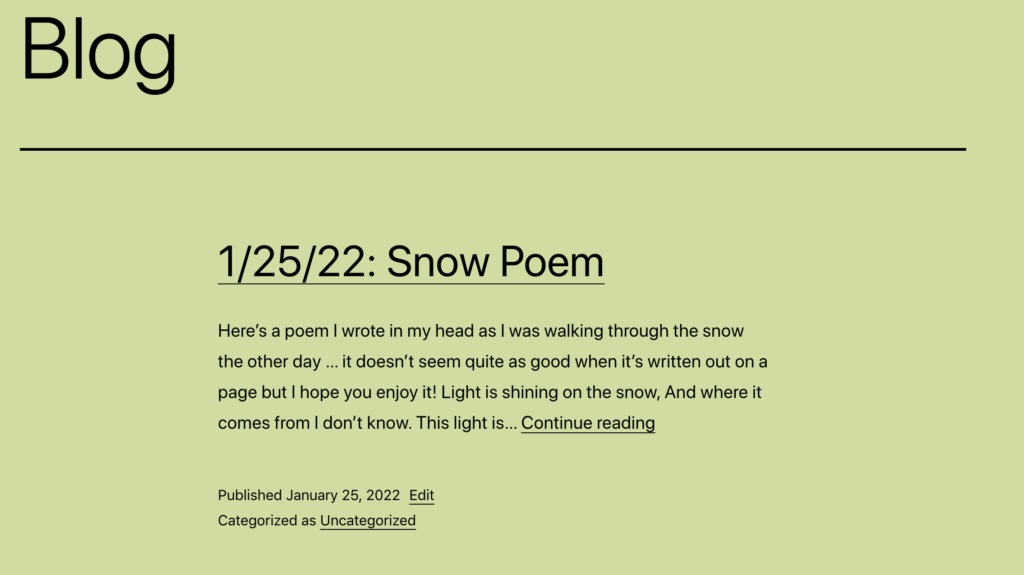 Here's the blog page which includes a preview of the first post. As you can see, the poem's formatting makes it look kind of janky on this one page.
In summary, here are a few things I still want to change about my site once I can figure them out:
Switch to the sick book theme!
Figure out how to format poetry in a professional looking way.