Linked jazz is a research project to apply Linked Open Data to identify cultural heritage of jazz musicians and relationships of the musicians by creating a linked network.
The sources of the project are the documents or text materials from libraries, archives, and museums. The sources focuses not only on the informations of the jazz musicians but also on the transcripts of the interviews that they had.
First, To create a Linked Open Data of the jazz musicians, the researchers extracted the names from external database of a name directory. Then, they mapped the extracted names to the archived documents and the interviews so that they can find the relationships of each musicians. The next step is classifying the relationships of the musicians. This was held as an open source project name as Linked Jazz 52nd ST, which encourages participants to classify the relationships of the musicians by providing transcripts of related interviews. The level of relationship is also distinguished to show more detail.
The project is presented in Linked Jazz Network Visualization, which depicts a data visualization of the network of jazz musicians found from the database.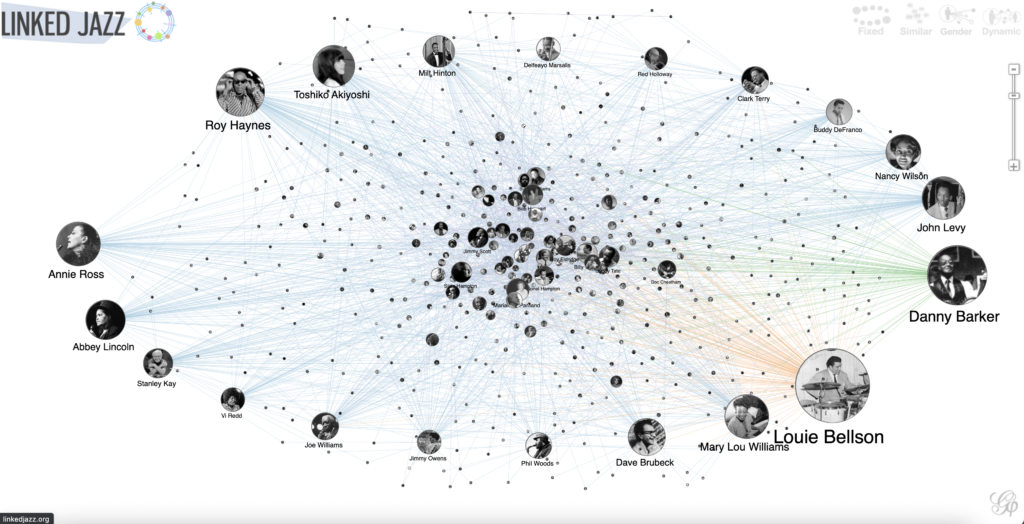 The Linked Jazz Project explained that this project is just one example of creating the digital network of the historical figures from jazz scene and it could be applied to any other fields to visualize the relationships. One question arose from breaking down the project was that the limitation of this data conversion process. The Linked Open Data heavily relies on the preserved documents and transcripts and could this limited data always be able to create a reliable network? Regardless of the validity, the Linked Open Data shows an easily applicable data conversion process from archives to digital network.