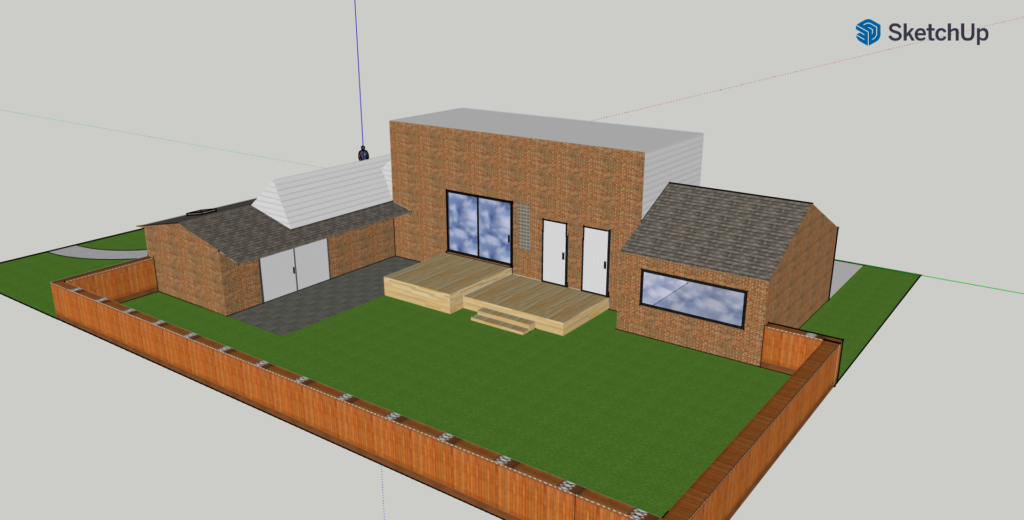 During the first stage of the pandemic back in early 2020, I responded to boredom and my architectural curiosity by learning to use SketchUp. I was pleasantly surprised to find ourselves beginning this term with a fun, familiar program. I want to shoutout TheSketchUpEssentials on YouTube for providing instructional, easy-to-follow tutorials.
That being said, my experience with SketchUp while designing this house was not relatively difficult (from a beginner's perspective). I did push myself and try to capture many minor details. For example, the window frames and glass, and door frames and wood, are distinctly separated from each other; the window frame sticks out a couple inches further than the glass. I tried to make it rather life-like. Unfortunately, it is not easy to tell from these 2-D pictures. I tried developing my skills further, and in that sense, it made this project a little difficult for me.
I had originally been working without a mouse, and that caused great difficulty. My good friend Darryl York gave me a wireless mouse and designing got a lot easier. Pro Tip #1: use a mouse while working in SketchUp. Sticky edges also made editing completed parts difficult. Often times, I had to "out-smart" SketchUp to achieve my desired looks.
I made a couple compromises. The first compromise is due to the editing difficulties outlined in the previous paragraph. In the backyard, there should be a row of three windows above the two porch-doors that represent upstairs bedrooms. I did not call back home as ask for house dimensions before starting this project, so I had to estimate them. Those estimations failed me here. It was not worth the time and effort (that comes with editing already created structures) to fix this. Another compromise I had to make was excluding details such as bushes, plants, trees, outdoor table, and more. This was a time compromise. I invested that time into details of the house.
SketchUp is an exceptional design tool for architects and creators. It can be used to design skyscrapers, model campuses, or to cure boredom as I did. It teaches 3-D designing skills and technological proficiency.
There are two helpful tools I want to provide in case you have not yet discovered them. The first is the offset tool. I can be found in the same spot as the push up/down tool. Offset allows you to create a new shape offsetted from another already made shape. For example, when I made my window frame, I created a rectangle, and then used the offset tool to create another rectangle in which each of the sides were 2 inches away from the original rectangle. That was probably confusing but using it in practice is phenomenal. Finally, this tool just makes your houses look nicer. You can hide the black lines outlining your shapes by right-clicking the lines and selecting hide. This maintains the shape but just hides the line.